Wasp is not dangerous to humans, only if you do not do any activity to make them aggressive. If you do an activity to make them aggressive then they can be dangerous to humans, otherwise, they are not dangerous. Let's get to know are wasp stings dangerous to humans.
You can easily find wasp around your garden, backyard, and garbage areas. They are good for your garden because they are good pollinators but some wasp can harm humans when they feel threatened. Wasp stings contains venom a poison due to this you feel pain, irritation, and some different types of allergic problems.
Problems caused by most common wasps
Wasps are a problem if they are too many around your home, backyard, and gardens.
They make their nest on rafters, railings, windows, door frames, and trees. They build their nest with the help of their saliva, paper, or even wood. The nests are a mixture of saliva and paper. They protect their nest so they can circle around the nest during the day and can go inside at night.
The wasp makes its nest with leaves and while making the nest, a whole colony of wasps help each other. When a hornet colony targets your home, backyard, and garden, they build nests everywhere they hang them.
Yalejacket wasps, often confused with honeybees because they look similar. Both have the same habits to find food sources nearby. Yalejacket wasps will attack picnics, outdoor ceremonies, compost piles, and trash cans. Yellowjackets scour the areas that provide protein and sugary foods.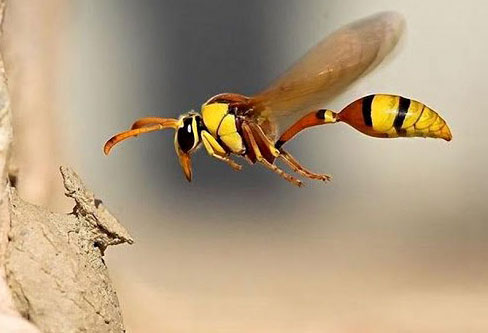 There are three different types of wasp commonly founds:-
Paper wasps
Yellowjacket wasps
Solitary wasps
Identifying wasps with the help of their characteristic
Wasps are very easy to identify due to their properties. You can identify paper wasp with the help of their large body size, it is about approximate 0.5 inches to 1 inch long. The paper wasps have yellow marks on their bodies and brown feathers.
Yellowjacket wasps look similar to the large bees. They have a very less amount of hair on their bodies. The yellow jacket wasp body size is approximately 10mm to 16 mm long. Typically, the yellow jacket's wasp body is black and yellow color. The yellow jacket has long wings on the body that folds when they don't fly.
Solitary wasps do not live in colonies like paper wasps or Yellowjacket wasps. They are predators wasp and prey on spiders, roaches, cicadas, and other insects. They paralyze prey to their venom and lay eggs on it. Other wasps are aggressive but Solitary wasps having a very calm nature.
Why Wasps stings are dangerous – Are Wasp Stings Dangerous to Humans?
Wasps are dangerous because they are aggressive and have long stings. They use their long sting to attack. Unlike bees, wasps can use stings multiple times. If someone approaches to harm the nest, the wasps will attack to keep it away from the nest.
Wasps are also dangerous when pollinated, so do not disturb them. The wasp attacks many times and is more dangerous and harmful to humans. If a person is stung by a wasp, he experiences internal pain, swelling, redness of the skin, some allergies, etc. and needs prompt medical treatments.
Once wasps begin to nest in their yard or home, they can be difficult to get rid of. If you try to control a wasp in your home, you are putting yourself in line for an attack from a wasp. Therefore, we advise you to stay away from the hornet's nest.
Some Advice to Prevent Yourself From Wasps
Very useful and effective advice is to keep a distance from the wasps and their nest.
Stand still and don't do any movement if any wasp pest control is approaching you.
If you are running then protect your head and face and run straight.
Keep your garbage covered, they are attracted to waste food.
Do not try to hide in the water, the wasps will wait for you to come out from the water.
That's all in this article. Hope it helps.