Everyone wants to get rid of cockroaches as they can get frustrated due to which everyone is grossed if they enter the house, they don't damage the property but contaminate the food and spread disease by traveling through garbage and infected areas. They are also the carriers of some diseases like asthma and allergies. Learn How To Identify & Prevent Cockroaches. These roaches live in areas where there is the availability of food, water, and warm and damp conditions like in basements, kitchens & bathrooms. They are mostly found in places such as restaurants, hotel rooms, nursing homes, and other food processing places. In most houses normally people keep some kind of insect sprays to Get Rid Of Cockroaches.
There are more than 4000 types of roaches species in the world out of which few types of them are mostly found in homes. They all almost look similar but there are some differences between them that help us choose the best effective pest control method to track and eliminate them.
The General Appearance Of Cockroaches
They vary from about 1.3 cm to 1.6 cm in length, they are normally light brown to dark brown in color. They have normally flattened, broad bodies, with two dark parallel long antennae-like streaks coming out of the head and long six legs with tiny sensory hairs on them. Some of them have wings but not all can fly.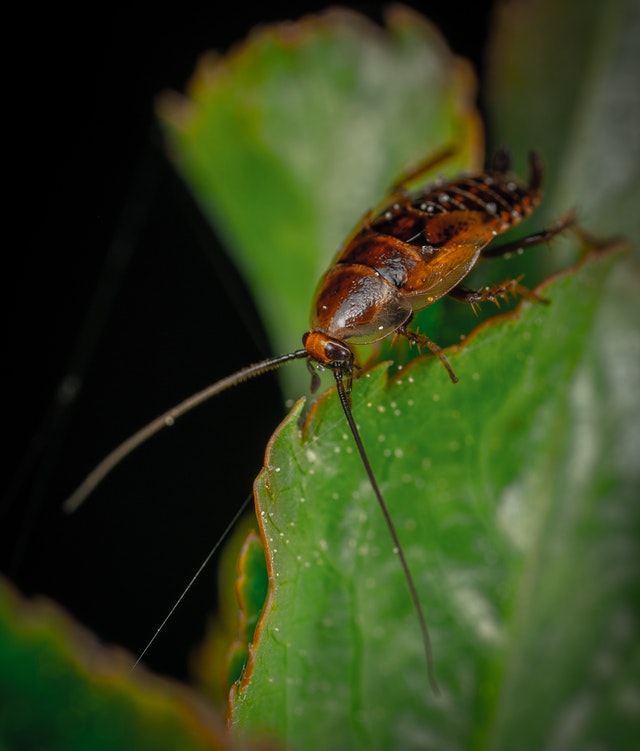 There are three major types cockroaches that are found indoors
German Cockroaches: These are the most common type found in houses. they are light brown in color, can come in along clothing, used furniture, etc, easily spreadable.
Oriental Cockroaches: They are dark brown in color, have a glossy-black look, and are 1.25 inches in length. They are usually found in very damp and humid places.
American cockroaches: These cockroaches are the biggest of all and vary from 1 to 3 inches, reddish-brown in color, and can live up to two years.
Some Natural Ways To Get Rid Of Cockroaches
Check out the below points to prevent cockroaches from your place.
Make use of Bay leaf to keep roaches away. As roaches don't like the smell of bay leaves.
Keep lemon slices, these gross pests don't like the acidic smell of lemon.
Cockroaches don't like the smell of coffee
Keep the temperature of the house cool, prevent cockroaches are more comfortable in hot and humid temperatures.
Fix any water leakage – roaches can't survive without water
How To Prevent Cockroaches?
When it comes to controlling/prevent cockroaches one needs a very integrated pest management system. Using just one type of control will not illuminate all types of pests and it will not help in preventing them to spread again.
Few steps we can follow to control/prevent cockroaches, one is through sanitation, exclusion and by chemical control
Sanitation
Keep your house clean and sanitized especially the kitchen area and living area
Do not leave any leftovers food in open
Remove any kind of food or water from hiding places to make the kitchen unattractive for roaches.
Store food in closed and airtight containers
Vacuum the back of cabinets and doors
Use flashlights and mirrors to check places that are hard to see.
Check for any food drops or any roaches in the corners.
Check for any leaks under the sink, as cockroaches may come in search of water.
Remove magazines, bag, or stacks of papers kept for long where roaches can hide
Place sticky traps inside the hiding places
Keep your trash can be covered with lids to keep the roaches away
Exclusion
One of the best ways to keep your house cockroaches free is if they can't get in your house then there is very less chance that they will multiply and you can control them easily.
Use rubber stripping around the house doors and windows from where they can enter.
Fill any small cracks if there are in the walls of the house, that may let insects crawl in the house
Keep your garden and plants a little away from the house and trim the shrubs often.
Put some insect killer in front of the vents to kill insects coming in the house, but before make sure that you don't have any small kids or pets in the house.
If you bring any new or old furniture in the house make sure that it is not caring any cockroaches hiding in it
Get rid of the trash or any stacked firewood near your home, this can be a hiding place for cockroaches or other insects.
Check your meter box, irrigation box, air condition unit, or any machines lying unattended for long, as cockroaches like to hide in quite dark places.
Chemical Control or Pesticides
If you find these insect populations inside the house then get some sprays labeled with cockroaches killer and spray on the areas where you find the population of these roaches. Call a pest control company to get rid of the cockroaches from your place. They will thoroughly inspect your place and sanitize your place by removing all sorts of pests.
By practicing and monitoring good sanitation, exclusion, and using the chemical spray you can keep control of these unwanted insects and can have a safe and clean kitchen and roaches free house.