Bed bugs are the parasite that survives on human blood. They are usually found around the bed area and it is very difficult to get rid of bed bugs. Bed bugs are tiny and hiding in the place where you never think of. They bite when you are asleep and leave redness on your skin. They are smart insects, they ruin your sleep and remain undetected. If you are surrounded by them you really need bed bug control ideas and tips.
Read the step you need to follow to figure out a way to get rid of bed bugs:-
Bed bug control tips
Basic bed bug control tips are followed by the four main steps that are- identifying, Inspecting, controlling and preventing. Let's just brief all the steps: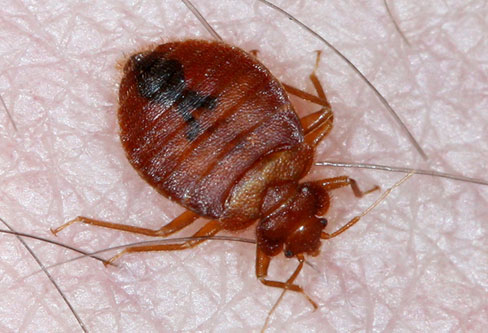 1. Identification
Bed bugs are flat & brown in color they are mainly founded in places where such as bedrooms and living rooms in the wooden furniture also in small holes and ceilings of walls. They look smaller in size when unfed and become red when they feed human blood.
2. Inspection
When you wake up in the morning and must have noticed a bite on your body. These bites look like mosquito bites that appear red in color. If you have such bites on your body then you might have bed bugs at your home.
You must check your sleeping bed before going to sleep. If you have seen this on your body than there are chances of these uninvited guests at your house.
Also, you must check your dressing furniture, dining table, all the things you do not use you may easily identify the bedbugs at such areas whereas it is difficult to spot them on areas where you visit frequently such as living rooms, bedrooms, dining rooms, kitchen areas, etc.
3. Control
We want to make sure the comfortable bed material is washed. You can wash it all off with hot, hard water. Keep foods in plastic bags to keep things safe. Also, keep them away from affected areas. Do not panic! If you make a decision but are looking for other pesticides, bear in mind that you are using a chemical that is only designed for outdoor use. So don't throw out all of your stuff because some techniques may reduce bed bug counts and borders.
To reduce the number of hiding places, be sure to maintain sanitation in places like clutter, carpets, and furniture. Crowded homes provide more places where bed bugs can live and hide. So if you want to control and reduce bed bugs, you can contact insecticides if you really need them. You can also control it yourself, washing, heating and drying bed sheets, blankets, window curtains or any type of clothing that may come into regular contact with the floor.
Reduces the number of bed bugs and their small colonies where they usually hide. They mostly live in group (colony) and hide in laundry, containers / baskets, etc.
4. Prevention
As you know most of the common ways for bed bugs to enter our house is through traveling. People love traveling it doesn't matter if it's a one-star hotel or a five-star hotel. They all suspect the bed bugs so what happened just bedbugs are hitchhikers. So they may come in the suitcase or luggage you bring at your home. Now you have got the bed bugs, you must think about the ways you can get rid of them?
Remember one, once you entered the house to remove the clothes. Pull them directly into the hot water in the washing machine and dry them. After that, vacuum the luggage with cleaner. Also, dispose of the vacuum cleaner outside.
Some areas to pay special attention there
1. Bed and Furniture Legs
Treat the wheels, casters, posts, and legs of all furniture that have bed bugs that may be hiding there. Mainly it is hidden inside the bed and eats the wooden furniture.
2. Wall-to-Wall Carpets
Treat and spray along the edges of carpets and where carpets meet baseboards and keep your furniture.
3. Door and Window Frames
Spray around all doors and window frames, and entrances.
Repeat as needed more. Be sure to read the product description for how usually you can carefully re-apply.
CONCLUSION
Bed bugs are the biggest problem of any type of home. Their presence creates an imbalance in your life. Bed bugs are blood feeders that should be eliminated soon. Their bites cause skin irritation, swelling, or blisters. If you scratch the bite, it may cause skin infections. Bed bugs are not good for your family and animals. If you want to get rid of bed bugs. Get pest control services. Our professionals help you protect your home with an effective plan that suits your specific needs.